Janet Rand, Taking a Risk (JDNG, Wheaton, IL)
August 15 @ 12:10 pm

-

12:50 pm

Free
August 18th Topic: Taking a Risk
Presenter: Janet Rand, Career & Life Transition Coach

Taking risks while transitioning from one job to another is a given, especially while networking. However, as Janet will share with us, sometimes the freedom we seek is in the risks themselves. This may seem like an odd topic for a job club meeting about networking, but there's a deeper story behind it.
My name is Paul Cameron, IT recruiter of 20+ years and I founded SpeedUpMyJobSearch.com in 2015. A few months ago, in April, I was at the crossroads of a major decision for SpeedUpMyJobSearch.com. I was seriously considering shutting it down. Although I have a genuine passion for it, I thoroughly enjoy running it, and have a talent for it, it was preventing me from recruiting which is how I make a living. The site is not a revenue source for me, just an enjoyable side project. Whether I shut it down or keep it, both represented a major risk. So I delivered an emotional presentation at our meeting in April and prayed that I would receive some guidance.
I shared a personal story at that meeting with everyone about my freshman year in college when I was in a severe car wreck, hit by a drunk driver which left me in a hospital bed with two broken legs for many months. At that time, I leaned heavily on motivational poems and essays to keep my spirits up while I recovered. I've referred to that collection of poems many, many times throughout my life for wisdom and inspiration whenever I face a difficult decision.
The wreck happened on Easter Sunday 1991, and the poems I had collected that year were once again providing inspiration for me; so much so that I even mentioned them during that April presentation earlier this year. One poem in particular is called "Risks" and has helped me through many big decisions over the years. Now, over 25 years later, it was especially relevant for me again.
I didn't know the author when I found the poem, and frankly, I didn't know that I knew the author all these years later…until that day in April, because she was in the audience that day. The author is Janet Rand.
There were only 20 to 25 people there that day, so the likelihood of this meeting is extraordinarily small. However, I am quite certain that wasn't a chance encounter; our steps were directed to be at that JDNG meeting that day. After she signed my xerox copy of her poem that I got from my college library all those years ago, she agreed to speak for us in August.
Her topic is, "Taking a Risk", but for me, attending this meeting is a sure thing. This meeting has been 28 years in the making and will be one that I will not soon forget. I hope you will be there to experience it as well. I'll also share details about the decision I've come to about SpeedUpMyJobSearch.com at this meeting as well. I hope you can join us.

---
Jobs Driven Networking Group, Wheaton, IL
Find job leads ● Find future employees ● Expand networks ● Sharpen skills
---
Meets: 3rd Thursday every month to discuss networking tactics and search strategies. 
Location: 120 W. Wesley St., Wheaton, IL 60187 – The lower level of the Wheaton Masonic Building 
NOTE: There is a lot of construction downtown Wheaton, so give yourself time. Parking options are below.
Meetings are FREE to attend thanks to our sponsors: SpeedUpMyJobSearch.com & Wheaton Lodge 269.
Video recordings of every presentation will be available to all members of SpeedUpMyJobSearch.com.
RSVP is not required, but highly encouraged and sincerely appreciated.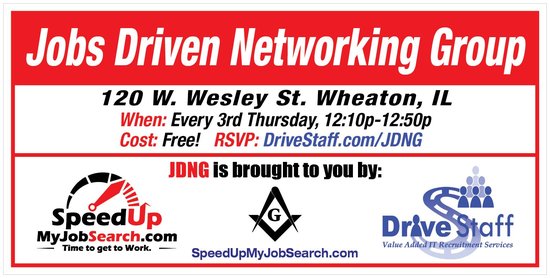 FAQs
Who should attend this event?
Anyone who would like to strengthen their networking skills and expand their professional networks.
What should I bring?
Bring a notebook/pen to take notes, and if you have business cards and handbills, please bring them. Also, this is cafeteria style room with lunch tables, please feel welcome to bring lunch to eat while listening to the presentation. We will not be serving food.
Where can I contact the organizer with any questions?
Paul Cameron can be reached at [email protected], or 630-941-3748 ext. 114
Do I have to bring my printed ticket to the event?
No, bringing your ticket is not required.
What are my parking options?
There is a free (but small) parking lot connected to the building, free parking on the street, and a very large parking garage with 300 free parking spots one block West on Wesley St.
If the Mason parking lot is full (it usually is), then exit the lot, take a left, go to the next block and take a left to the lot. The arrows below animate this exciting journey to the big parking garage.
It's 3-minute walk away, a 5-minute stroll, and 10-minute meander. Go at your own pace. See you Thursday!